Laugh Lines History
The true beginning of Laugh Lines was in May of 1994 when I drew my first insulator comic, "High and Dry" using SuperPaint on an Apple Macintosh Plus computer (See Figure 1). The concept was inspired from a drawing I had seen on the April 1993 cover of Crown Jewels of the Wire Magazine, in which a bunch of flies are huddled under a big multipart with the caption "Boy, those umbrellas sure do work!" My twist on the concept gave personalities to the insulators themselves.
In January 1995, I produced five other comics on the computer as well, none of which I felt were good enough to be published.
In 1996, I decided to revamp the whole idea of producing an insulator comic. To start with, the comic needed a name! My dad liked "Pole-ish Jokes", but I decided on using "Laugh Lines," which I felt conveyed the play-on-words style of my comic better.
I decided to draw these comics by hand as opposed to using the computer, as I had done with my old original comics.
On October 15, 1996, I wrote to Carol McDougald, who was the editor of CJOW then, and offered her my comic as a possible monthly feature. Much to my happiness, she accepted!
My first logo (Figure 2), drawn in Aldus PageMaker, served me well until March of 1998, when I decided to revamp the logo. (Figure 3.) This second logo was only used for 8 issues. In 1999 and 2000, my interest waned as I diverted my attention to college and other interests.
I revised the logo again in 2001 (Figure 4) when I resumed production of Laugh Lines, as I needed a fresh start. Starting with Laugh Lines #25, I began scanning the comics into the computer and using Adobe Photoshop to shade the comic (which I still continue to do today).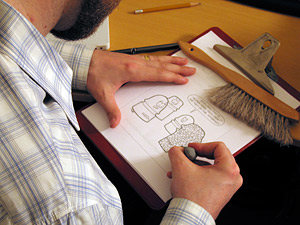 In 2008, Laugh Lines reached its 100th comic milestone. As a special tribute, it was the first comic drawn in color and was featured on the cover of Crown Jewels of the Wire Magazine (May 2008). Starting with Laugh Lines #102, all comics are now being produced in color.
Laugh Lines #101 and onward also saw a new logo (Figure 5). My Li'l Surge character had become sort of the "poster insulator" for Laugh Lines, so I thought it only fitting that he should be featured. I also felt that the previous logo took up too much room. With this design I reduced the height, allowing for a larger comic area.
In 2009, life once again got in the way, and I was running thin on ideas, so I decided to take another hiatus. Now, in November 2011, I have decided to resume production of Laugh Lines. Look for more issues in the coming months!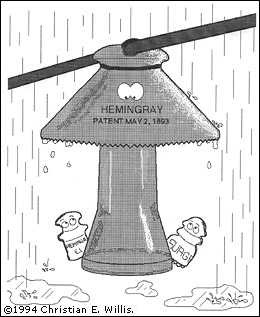 Figure 1. "High and Dry", 1994.


Figure 2. First Logo, 1996–1998.



Figure 3. Second Logo, 1998.



Figure 4. Third Logo, 2001–2008


Figure 5. Current Logo, 2008–